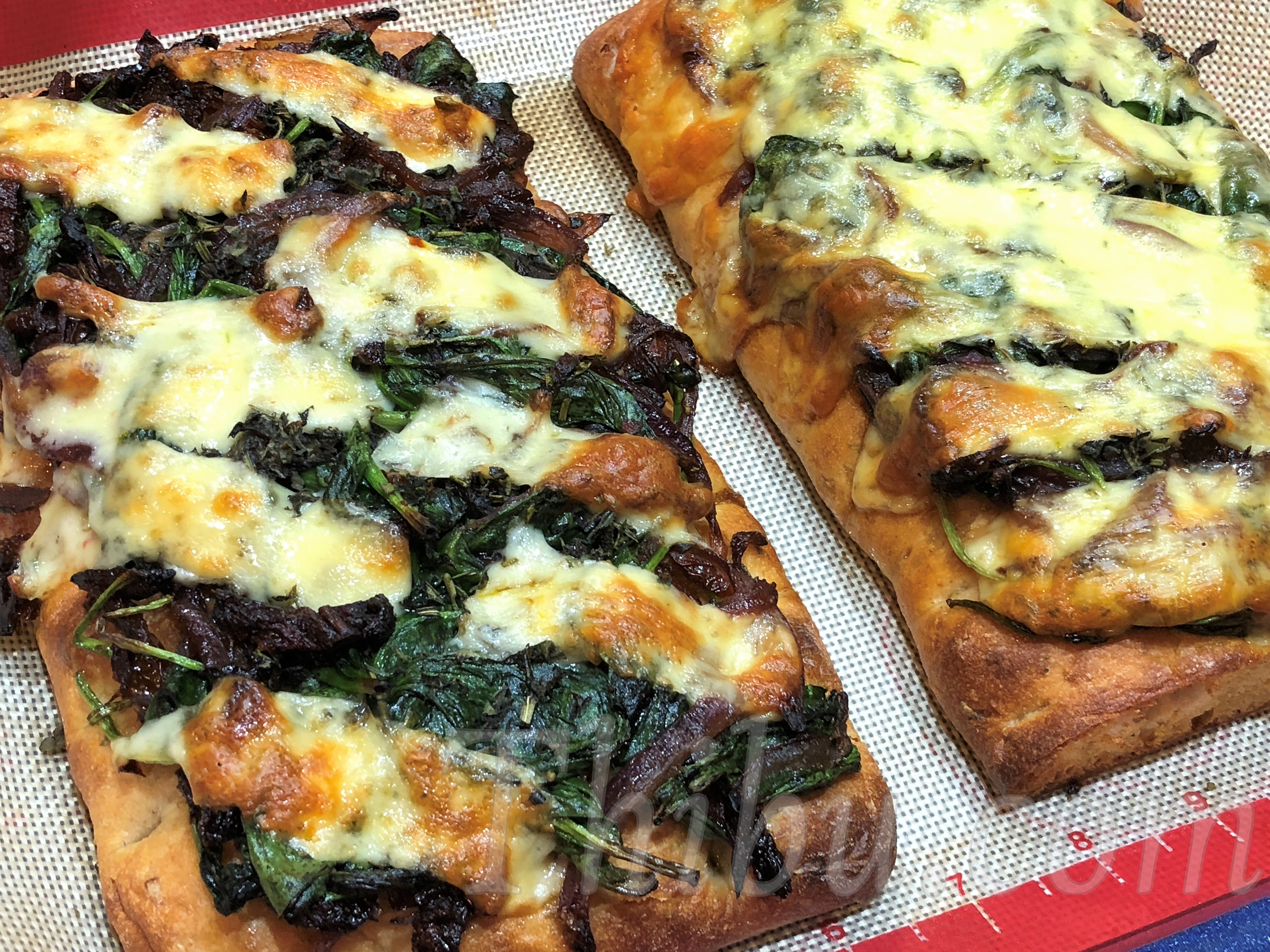 Focaccia Pizza with Caramelized Onion, Spinach and Sun-dried Tomatoes
You've seen me cook Caramelized Onion, Spinach and Tomatoes before, like in this Pasta. Took a similar but slightly different approach with this Focaccia Pizza and boy oh boy, it looked most appetizing and tasted ever so good. My husband's immediate reaction was that he should have got more Focaccia. Kids asked if we had any left over, they want it in their lunch box tomorrow 🙂
And the best part was that it was easy to make!
What you'll need:
Focaccia Bread – we used Potato and Chive from costco
Olive Oil – 2 tbsp
Red Onion (thinly sliced) – 1
Baby Spinach – about 4 cups
Sundried Tomatoes in oil – 1/2 cup
Salt to taste
Pepper to taste
Fresh Herbs finely chopped – we used Rosemary and Oregano from the garden (dried herbs are fine too)
Cheese of your choice – we used Jalapeno for us and Cheddar for Kids
Method:
Heat oven to 4oo deg F.
In a shallow wide pan, add the Olive Oil and the sliced Red Onion and saute on high to nicely caramelize it.
Add the Spinach and Sundried Tomatoes and cook.
Add Salt and Pepper. Mix and cook well.
Place the Focaccia bread on a Silicone mat or a tray lined with foil.
Top with the Caramelized Onion, Sundried Tomatoes and Spinach.
Top with finely chopped herbs.
Top with Cheese.
Bake for 15 min in oven. Enjoy while it is hot!
Comments
comments