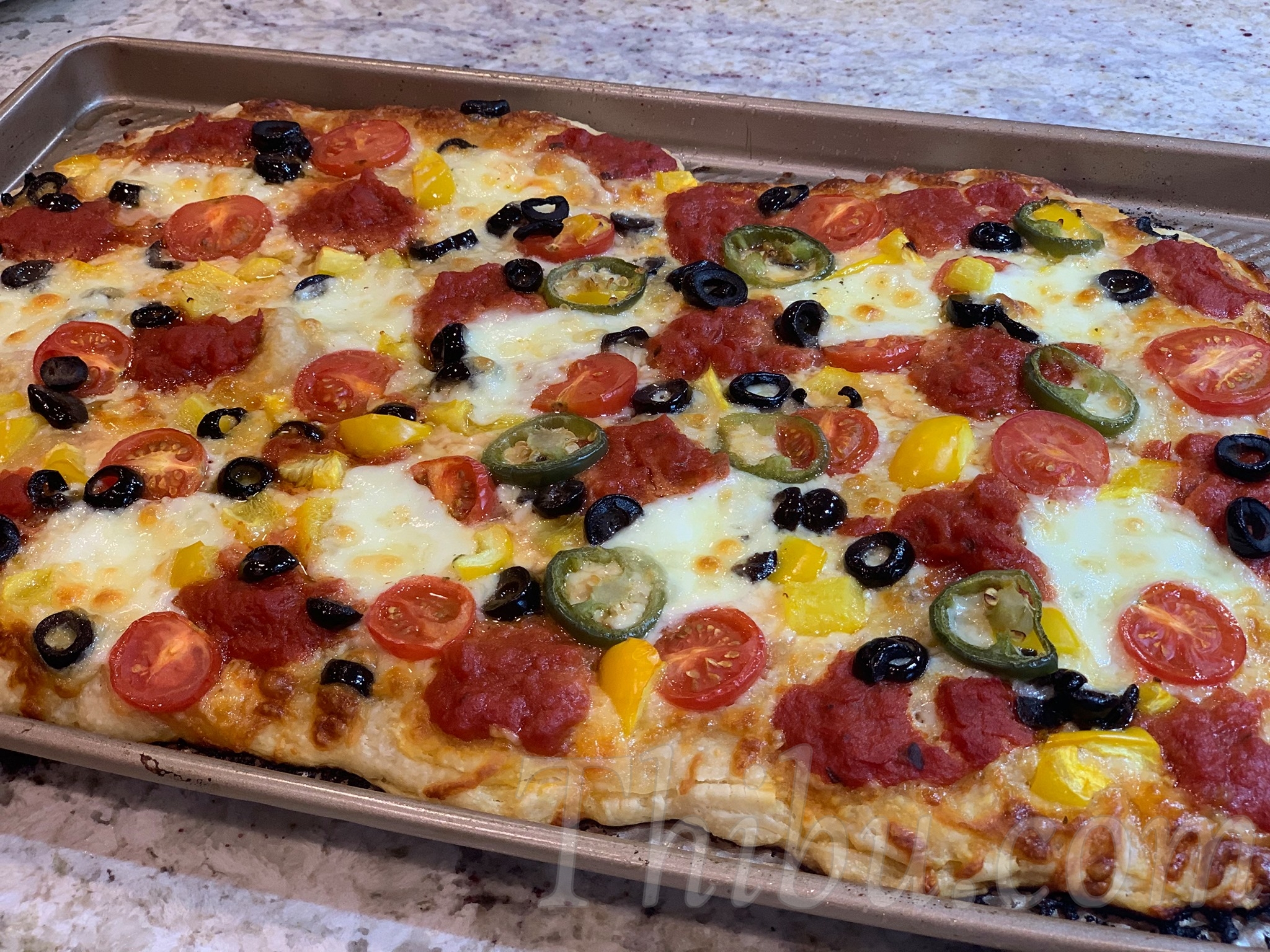 Sourdough Pizza
Who doesnt love Pizza!!! 🙂 Its a family favorite here and we make it about once a week. And once I started making the Sourdough Pizza, there is nothing like it!
Its easy to make! Once you make the dough with your sourdough starter, put it away in the refrigerator and the best pizza is when the dough is anywhere from 3-7 days old. I mean it! It develops very well in the refrigerator.
And it makes a perfect quick dinner on busy weekends. Just take the dough out and let sit at room temperature for a while. Shape, put toppings of your choice and bake!!
Making the dough is simple, it is pretty much the same as a regular Sourdough Bread dough.
I am not going to give instructions on how to make the sourdough starter here. There are several sites and videos which explain this well, so I'll assume that you already have the starter ready.
So, the 2 steps are:
Make the Dough
Make the Pizza
What you'll need:
Water – 1 cup
Salt – 1 tsp
Sourdough Starter – 1 cup
All Purpose Flour – 3 cups
Oil, about 1 to 2 tbsp
Method:
Making the Pizza Dough:
In a larger mixing bowl or you dough mixer (kitchen aid), pour the Water and add the Salt. Mix.
Add the Sourdough Starter, Mix.
Add the All Purpose Flour, Mix until it just comes together. No kneading required. You want the dough to be stretchy, dont add too much dough.
Shape the dough into a rough ball, spread a tsp of oil all around it.
Grease a large box with Oil. Place the oil coated dough in the box and cover. (make sure there is plenty of room in the box, pick a box that is about 4 times the size of the dough)
Place in the refrigerator and let it sit anywhere between 3 to 7 days. If you have a clear box, you'll see the air pockets (bubbles) develop beautifully inside the box. (If you want to make the pizza the same day, you can. Let it proof for about 6 hrs)
Making the Pizza:
When you are ready to make your pizza, take the dough out of the refrigerator a couple of hours ahead.
Place the box on the counter for an hour.
Grease your pizza pan. Take the dough out of the box onto the pizza pan. Stretch gently without releasing the air pockets and shape your pizza. Let sit for another hour.
In the meantime, Preheat the oven to 450 deg F.
Top your pizza with your favorite sauce, toppings, cheese, etc.
Bake for 20 minutes, until the bread it cooked to crispness (oven times might differ).
Take out of the oven and let sit for about 5 minutes before cutting and Enjoy!!
Comments
comments