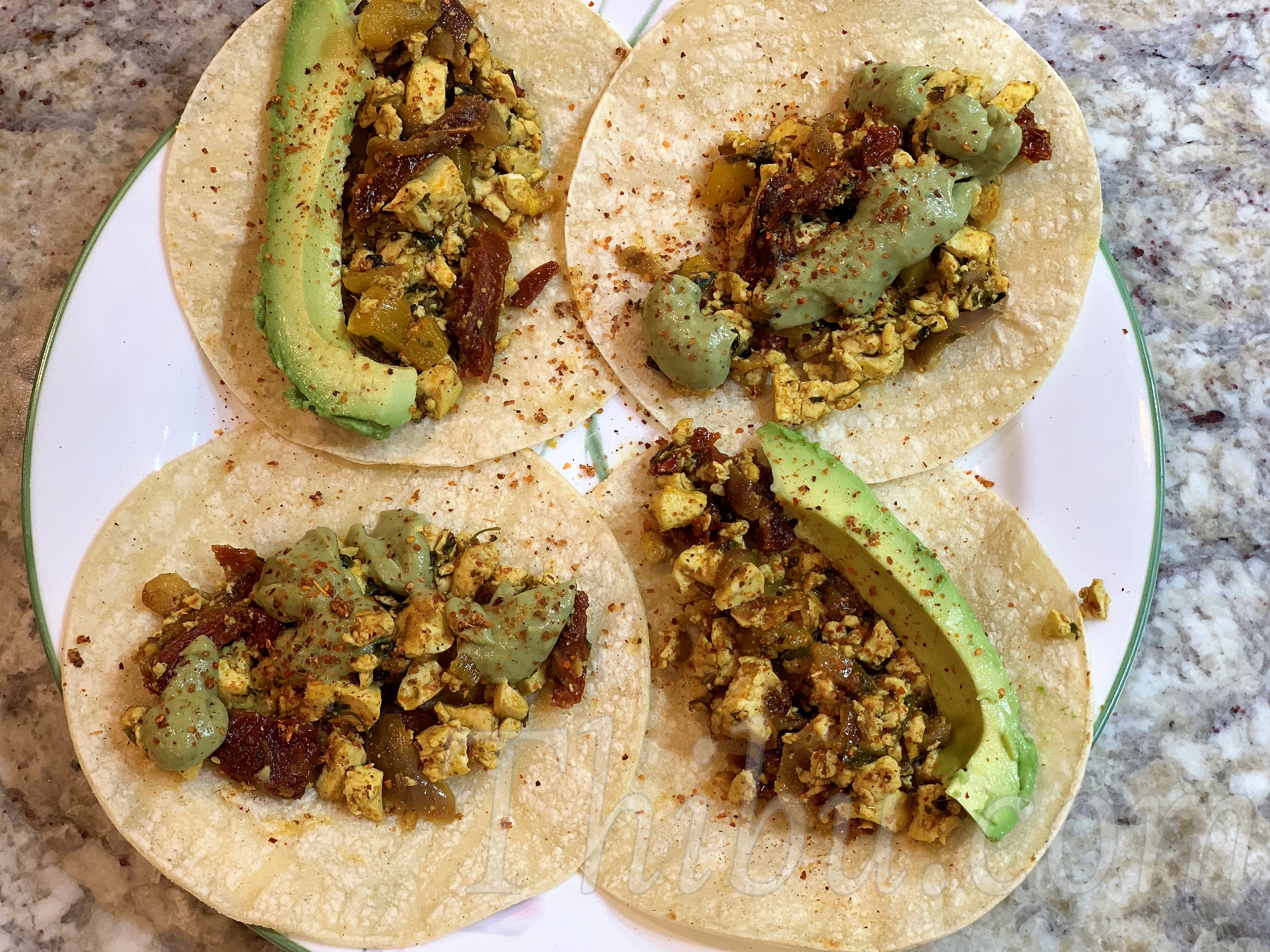 Tofu Fusion Tacos
For a very quick dinner tonight, I made this sauteed Tofu with veggies and Indian spices.. Within an hour cooking and dining were done!
My kids love Kadai Paneer and I make it quite often. And even though one of my son does not like Bell Peppers, he liked this!
What you'll need:
Firm Tofu – 2 boxes
Red Onion finely chopped – 1
Yellow (or any) Bell Pepper finely chopped – 1
Sundried Tomatoes – 1/2 cup
Kadai Paneer Masala – 2 tsps or to taste
Amchur (dry mango) Powder – 1 tsp
Salt to taste
Kasuri Methi (dry leaves) – 1/4 cup
Corn Tortilla
Avocado or Avocado Crema
Chili Lime Seasoning (optional)
Method:
In a large pan, saute the Onion in oil until caramelized.
Add the Bell Peppers and Saute. When it gets soft, add the Sundried Tomatoes and Saute.
Squeeze out the water from Tofu, chop or crumble to small pieces, and add to pan. Saute.
Add the Spices – Kadai Paneer Masala, Amchir Powder, Salt and mix. Continue to Saute.
When everything is cooked through well, mix in Kasuri Methi. Saute for a couple more minutes and done!
To assemble the Tacos,
Warm Corn Tortillas
Top with Sauteed Tofu and Veggies
Top with Avocado Crema or Fresh Avocado slices
Optionally sprinkle some Chili Lime Salt
Enjoy!!
Comments
comments