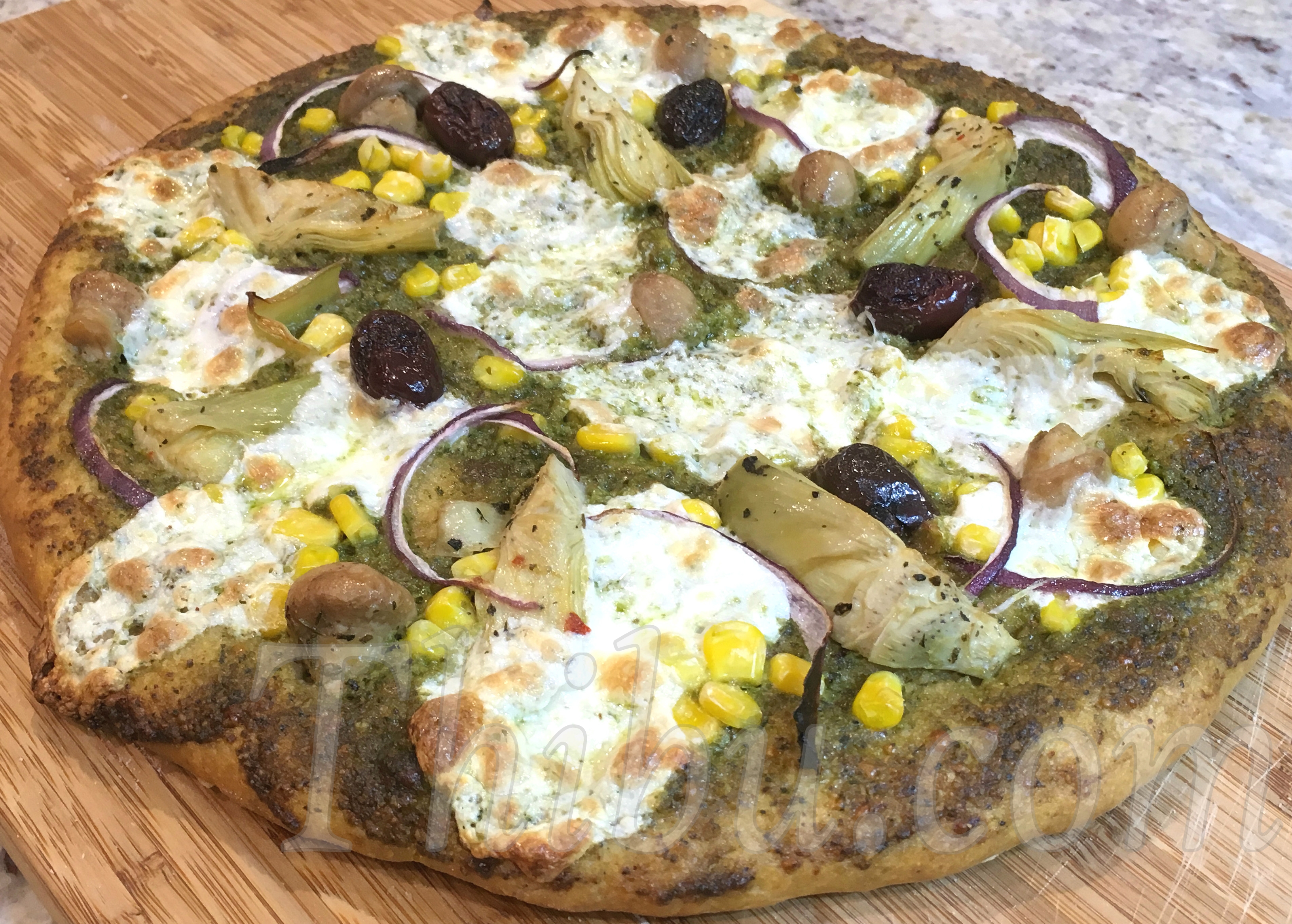 Whole Wheat Pizza!!
I am so glad how well these pizza pies turned out! It wasn't complicated to make, quite easy in fact. Kids loved it and yes totally healthy!! 🙂
Don't be intimidated, I've provided a lot of details in the recipe to make it easy to follow. Hope its helpful.
What you'll need:
Wheat Flour – 3 cups (plus upto 1/2 cup for kneading)
Dry Active Yeast – 1 tbsp (or 1 packet)
Warm Water – 1 1/2 cups
Honey – 1 tbsp
Olive Oil – 1 tbsp
Salt – 1 tsp
Herb or Garlic infused Olive Oil for brushing
Toppings and Cheese of your choice
Pizza Sauce or Spinach Walnut Pesto
Method:
1. In a large mixing bowl, add the yeast and 1 1/2 cup warm water (110 deg – I microwaved for 1 minute. Make sure that the water is not too hot, it might kill the yeast). Dissolve yeast and let sit for about 5 minutes. It should fully dissolve and start to make small bubbles.
2. Sift in the Flour and Salt. Add the Honey and Olive Oil. Mix the dough until it comes together. Knead for another 5 minutes adding upto 1/2 cup of additional flour as needed. I needed about 1/4 cup. The dough will be elastic and bounce back when poked.
3. Grease the bowl and place the mixed dough. Coat dough with oil. Cover bowl tightly with a plastic wrap and set aside for 1 -2 hour in a warm place (I kept inside the oven with the light on).
4. It should have doubled in size. Take out and punch dough to deflate. Cut dough into 2 halves. (I made my pizza dough a day ahead, and at this time placed my dough balls in a covered box coated with oil and kept in fridge).
5. If using right away (or when taken out of fridge), keep dough balls out for another 20-30 minutes.
6. On a lightly floured surface, take one dough ball and flatten by hands to make approximately a 12 inch round. Place over a Pizza baking tray that's lightly greased and dusted with corn meal (you can use wheat flour if you don't have corn meal).
7. Brush lightly with Herb or Garlic infused Olive Oil. Top with Pizza Sauce or Spinach Walnut Pesto. Top with your favorite toppings and cheese.
8. Bake for 15 minutes in an oven that is preheated to 475 deg F. Enjoy!!!
Comments
comments