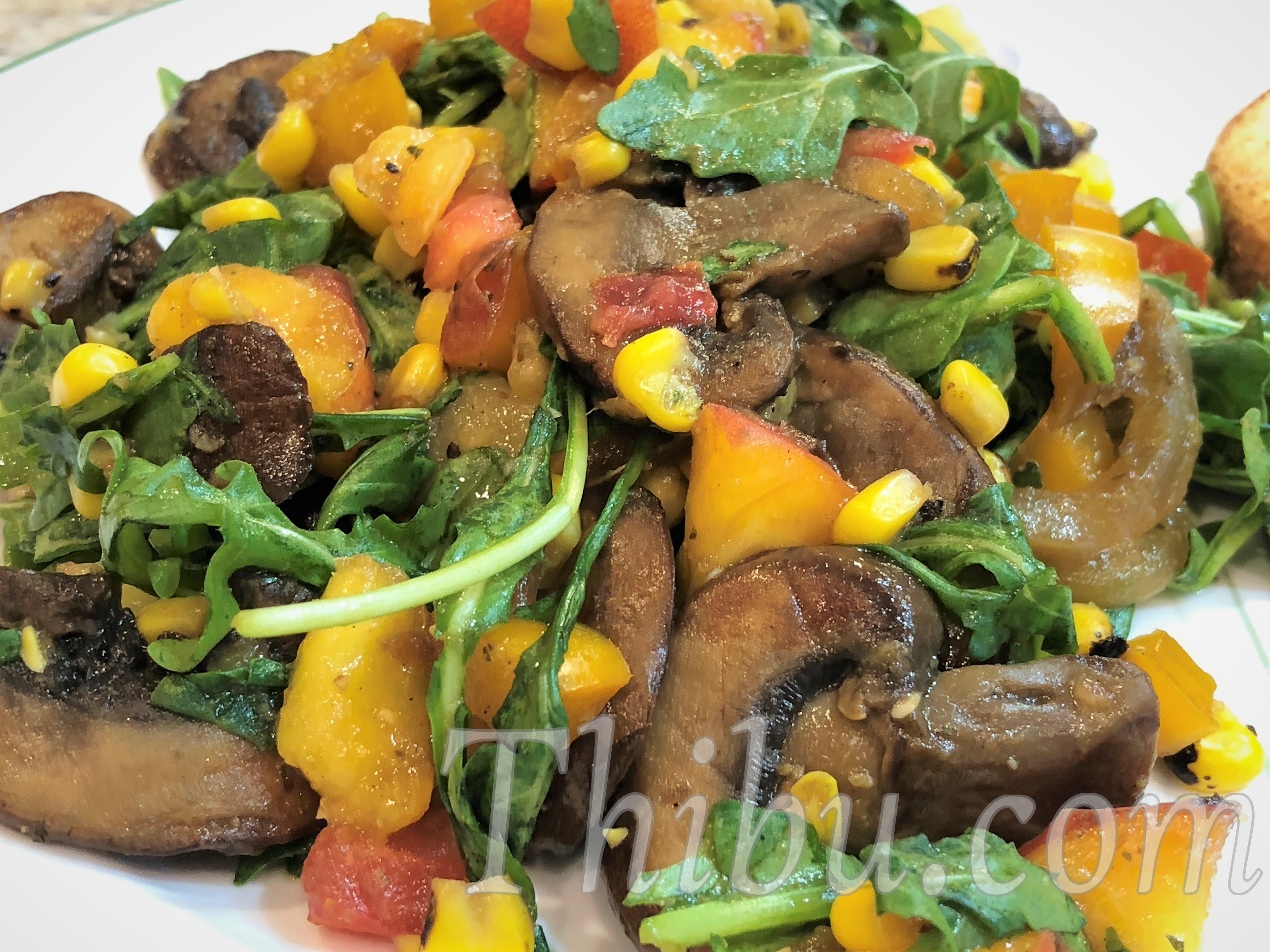 Arugula Salad with Caramelized Onion and Mushrooms!
Cooking is a form of Art! You add on layers, one at a time. You are guided through your senses, and your heart, your mood. Each piece of art is different, so is each dish. You create something new based on how you feel, with the ingredients you have around you to inspire you.
We've been having Salads for dinner, and I've posted some very yummy salads here, check them out!
Last night when I opened the fridge to see what I would make, I found a bag of Crimini Mushrooms. It started from there.. I decided to caramelize it and add to salad. And then I decided to add on Onion as well – caramelized onion is always so yummy! And then I added on a whole bunch other things to create this beautiful plate of salad full of flavors!
1 Bag Wild Arugula Salad (Trader Joe's)
1 Bag Sliced Crimini Mushrooms (Trader Joe's)
1/2 large Onion slided
1 Orange Bell Pepper Chopped
1 tbsp 21 Seasoning Salute  (Trader Joe's)
1/2 cup Roasted Corn (Trader Joe's)
1 big Tomato cubed
1 Kiwi fruit cubed
1 ripe Peach cubed
A few Macadamia Nuts chopped
I sauteed the Onion and Mushroom until they were nice caramelized. Added the Bell Peppers and let it cook for a few more minutes.
I then sprinkled on the Seasoning and some Salt.
In the meantime, I had my Arugula in a Salad bowl. I topped the hot Caramelized Veggies over the Arugula. This helps to wilt the Arugula a bit.
Topped it off with Roasted Corn, after slightly warming in the same pan.
Next went a nice beefy Tomato.. this one was from my yard.
Topped with a Kiwi, cubed.
A nice sweet Peach went on that.
And finally some chopped Macadamia nuts.
Nicely mix everything together!
No other dressing was needed. Caramelized Veggies help to soften the Arugula, and all the flavors of the veggies and fruits mix in together!
The boys had it with a slice of toasted bread. 
I didnt need that either.. just salad was perfect!
I'm not fond of Mushrooms, but this tasted so good, nicely caramelized! A perfect flavorful meal for a summer night!
Kids didn't like the Arugula very much. I might change it up next time to different greens. But this will be one salad I'll be making again!